Sephiroth Action Figure
Sephiroth Plush Toys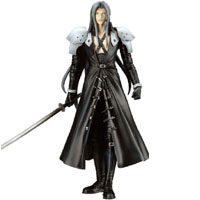 Sephiroth merchandise can be a fun, exciting way to show off your following of Sephiroth. There are a wide array of sephiroth-themed products to suit your various tastes, ranging from action figures to giant swords.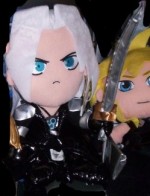 Action Figure - The Sephiroth action figure that's current available is a great choice for Final Fantasy 7 fans. It's a play arts action figure that is perfect for posing and modeling, which can help artists wanting to draw Sephiroth.
Plush Toy - The Sephiroth plush is a rare find. The one pictured here is an example of a plush counterfeit, which is most common at anime conventions. There were plushes that were sponsored by Square, but they are no longer distributed.
Sword - A Sephiroth sword is an excellent Sephiroth item. It can really show off your appreciation for Final Fantasy VII.
Other types of merchandise include keychains, coffee mugs, buttons, etc, but these are generally much more rare to find.
---

FINAL FANTASY and all related elements including SEPHIROTH are trademark SQUARE ENIX.